A burglary takes place roughly every 108 seconds with the estimated average cost of a residential burglary being £3,030. According to police reports, 33% of these burglaries are classed as unlawful entry meaning the assailant did not have to force their way in as the home was not secured. Something as simple as ensuring all doors and windows are properly locked can reduce your risk of burglary by one third.
When it comes to deciding what the best locks are for your home, there is no 'one lock fits all' solution. It is important to consider the type of door you are securing along with its individual security rating to determine the best house locks to buy for your home.
Lock Types
Choosing a door lock for your home can seem daunting. The type of lock you need will vary depending on the door you are looking to secure. It is important to consider the location of your door (internal or external), the material of your door and how the lock system itself works. For instance, it would be unnecessary for most people to have a complex lock system on their bathroom door.
We have summarised the key specifications for the most popular lock types to assist you in choosing the most secure door locks for your home as well as providing some insight into how the most popular door locks work.
We'll be covering the most prolific lock types.
Multi-Point Locking System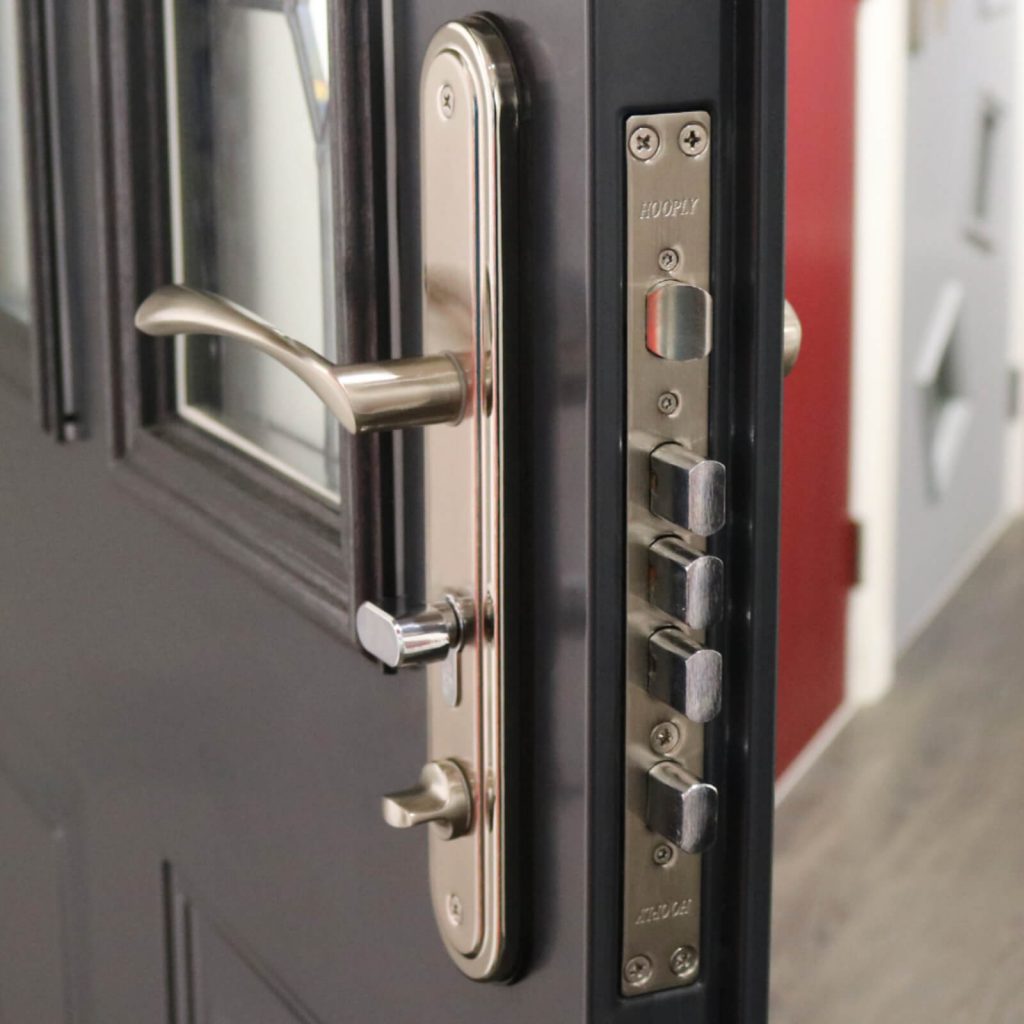 How does a multi-point lock work?
A multi-point locking system is key operated. The lock system is fitted to the body of the door bolting the door into the frame and locking (as you may have already guessed) at multiple points. It offers a high level of security making it a popular choice for external doors in the home. Should someone try to force the door, the multi point system distributes the weight throughout 3, 5 or even 7 points and is harder to break.
Suitable door materials
Multi-point locks are usually fitted to UPVC and composite doors making them a popular choice for new build homes, however they can also be fitted to timber and Aluminium doors.
Suitable door types
Multi-point locks are highly secure and commonly used on both front doors and back doors.
Advantages
Several locking points make it much harder to force entry.
Only one cylinder is required to lock the full mechanism. Multiple cylinder locks can be keyed alike, meaning you can reduce the amount of keys needed for one property.
Cylinders can be easily changed either for a repair or an upgrade.
Disadvantages
Although one cylinder is advantageous in terms of keys, it does mean there are fewer locks to defeat.
It is essential to lift the handle and double lock the mechanism before to properly secure the door. This can be complicated for guests or children who do not fully understand the multi-point lock system and could leave your home vulnerable. 
However, be aware there are a few other methods of double locking these types of locks and you should acquaint yourself with the proper method.
Euro Cylinder Locks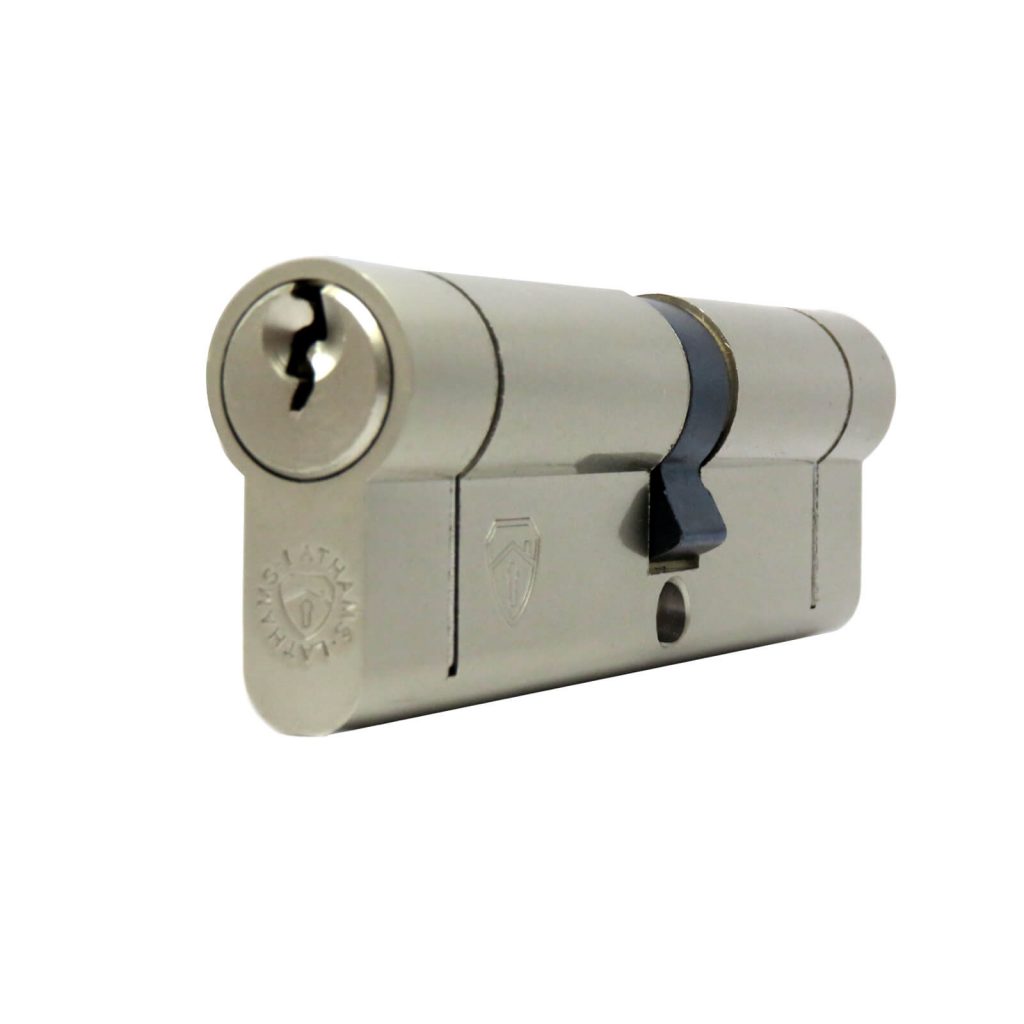 How does a euro cylinder lock work?
A euro cylinder lock (sometimes also referred to as an 'anti-snap lock' or a 'snapsafe lock'), is a locking system with additional casing around the cylinder. These locks are designed and tested to protect against forced entry using the lock snapping or blow torching technique, both of which ultimately lead to the thief snapping the lock cylinder.
The euro cylinder itself sits within a lock case and secured by a fixing screw through its face. This system is key operated, driving a deadbolt in the lock case the frame of the door which secures the door in place.
It is important to look at the rating of your euro cylinder lock before fitting it, to ensure it is truly anti snap. See our expert tips section.
If you need to measure a euro cylinder lock, this can be done once it has already been fitted, or before fitting. Simply measure the distance from the centre of the screw hole to the edge of the handle backplate on the outside and round up the size to the nearest 5mm, (e.g. 43mm = 45mm).
Suitable door materials
Multi-point locks are most commonly fitted to uPVC & composite doors. Although it is less common, they can also be fitted to timber or Aluminium doors.
Suitable door types
Euro cylinder locks are most frequently used on any external door. This could include both front doors and back doors, side doors and patio doors.
They can also be used as locks for internal doors in commercial buildings such as offices, schools and hospitals.
Advantages
Using a euro cylinder significantly reduces the risk of lock snapping, drilling, lock bumping or picking.
Easy to operate.
Easily changed or upgraded.
Can be keyed alike or master keyed so fewer keys are required to a property.
Disadvantages
It is essential that your euro cylinder lock is fitted correctly, as those that are not can be broken into in under 15 seconds using the cylinder snapping attack method.
Rim Cylinder with Deadlatch
How does a rim cylinder lock work?
Rim locks (sometimes referred to as Nightlatches and Yale Locks) are surface-mounted to the inside of a door, with a cylinder that goes through the door and allows the lock to be operated by key from the outside. A deadlatch will automatically lock itself whenever the door is closed. This makes leaving the house quicker and you can be safe knowing the door is locked behind you.
Suitable door materials
Rim locks can be fitted to wooden or timber doors. They can also be fitted to glass panel doors.
Suitable door types
Deadlatch or nightlatch locks are used on external doors because of their high security. Therefore they are most commonly found on front and back doors.
Advantages
Automatically locks upon the door shutting, reducing risk of leaving your door unlocked
Easy to use
Disadvantages
Unless you fit a BS 3621-night latch, it will require an additional lock fitted to your door to improve security, such as a mortice lock.
5 Lever Mortice Sashlocks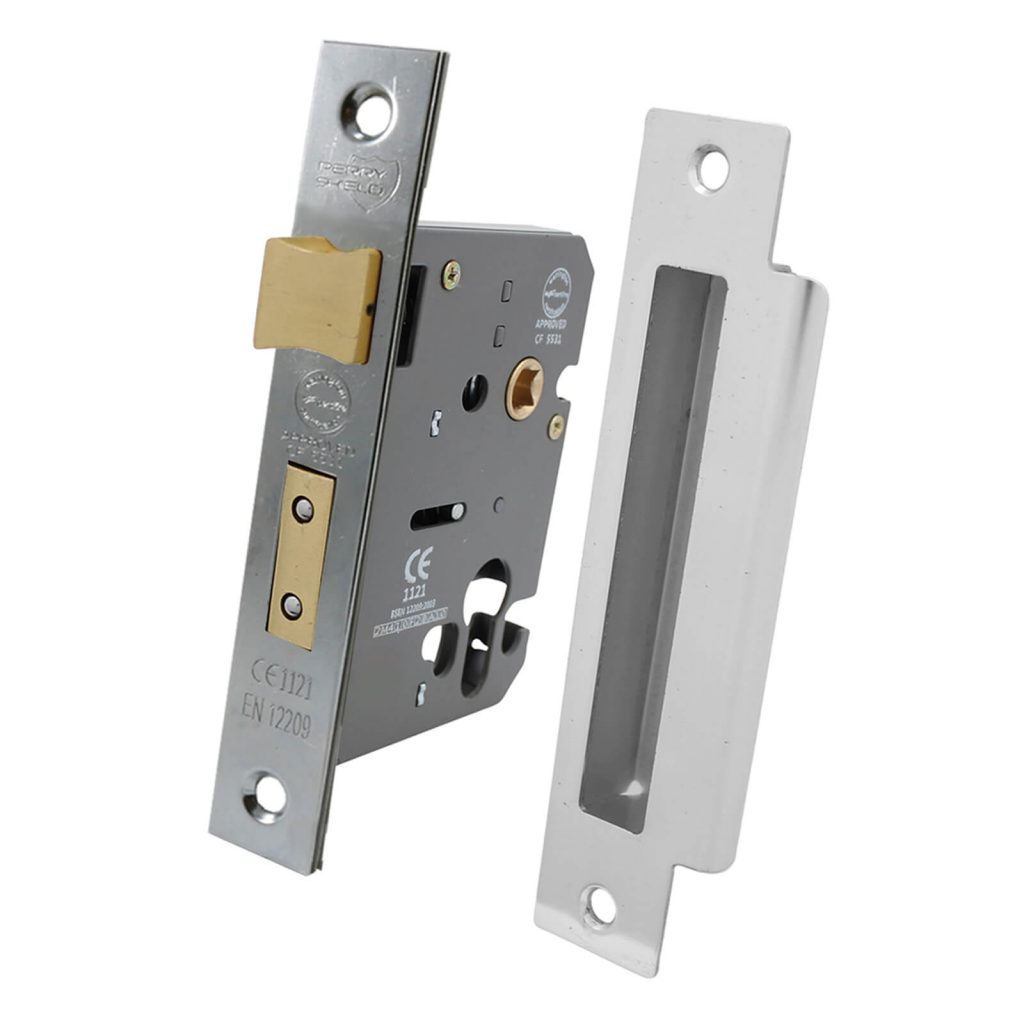 How does a Lever Mortice Sashlock work?
Mortice locks are embedded into the door itself and can only be opened with the key. They are commonly found on back doors and are often fitted to front doors in addition to a cylinder rim lock (Yale lock).
Mortice locks can often be described as a deadlock or sash lock. A deadlock is a mortice lock which has just a key hole and a bolt. A sash lock has a bolt and a latch and a pair of handles.
Suitable door materials
Most commonly these locks will be fitted to a wooden door. Importantly, they cannot be used on uPVC & composite doors.
Suitable door types
Lever mortice locks are most commonly found on external doors, either front or back. They are less commonly found on internal doors.
Advantages
Burglars can not smash an adjacent window, reach inside and unlock the door.
Deadlocks on a mortice lock also mean if a burglar breaks in through a window they can not escape through the door, providing you have not left the key in the lock on the inside.
Easy to change when locks need replacing.
Disadvantages
No automatic locking option.
Can't be installed on doors with a thickness less than 35mm
Expert tips
Mortice locks have several lever variations: a 2, 3, 5 or 7 lever mechanism. 5 lever and above can be British Standard or non British Standard.
We would only recommend the installation of British Standard mortice locks as only they have been fully tested against common burglar techniques such as lock picking and drilling.
Smart Locks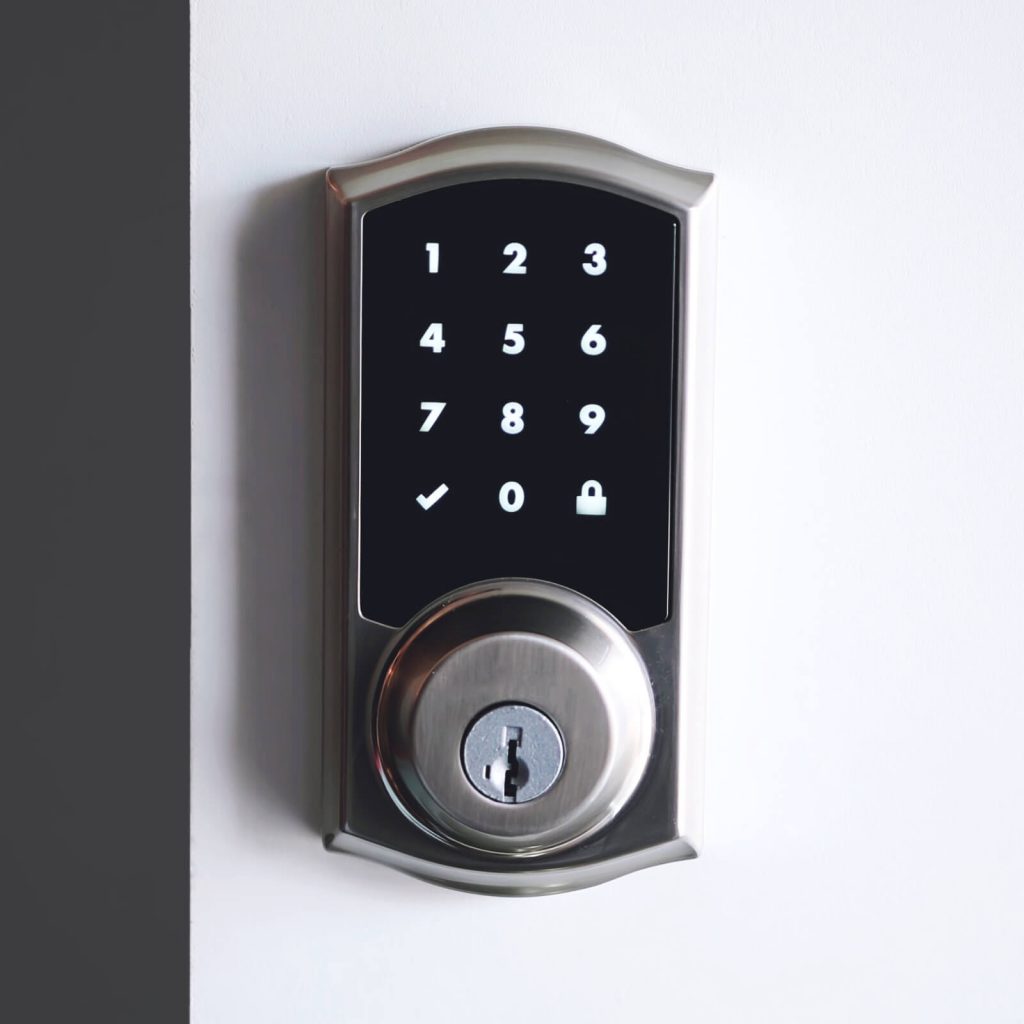 How does a smart lock work?
Smart locks are keyless door locks that allow you to open your door without a physical key. They can be controlled remotely using a smartphone app. Many models feature a numeric keypad, for which a unique code is required to gain access to the premises. How do smart locks work? Well, they will usually connect to your home's WiFi network, via which it can receive the code or smartphone command to lock or unlock accordingly.
Suitable door materials
Smart locks can be fitted to most door types including wooden, aluminium and uPVC doors. Be sure to check the specifications for your specific lock to see which door materials it is compatible with.
Suitable door types
Smart locks are most commonly fitted to external doors, but can also be fitted to internal doors throughout the house as part of a smart home system.
Advantages
Control your front door no matter where you are.
No need to worry about losing keys
Can give guests access to your home without the need for a physical key
Notifications help you remember to lock up.
Disadvantages
Code needs to be changed regularly to prevent unwanted access to your home.
Changing the code could lead to increased likelihood of forgetting it.
Choosing which lock you need
By looking at the location of the door you wish to secure and the material from which the door is made, you can make an informed decision as to the best house lock to buy for your home.
Exterior Wooden Doors
It is important that any lock fitted meets the requirement of BS3621 (british standard). An exterior wooden door is most suited to a lever mortice lock, or a rim cylinder lock with a deadlatch. Most wooden doors should have two locks installed in order to fully protect against a brute force attack. For example, a rim cylinder alone is not ample for a wooden door and should be fitted alongside a deadlatch.
Mortice locks have several lever variations, the higher the number of levers, the greater the security the lock offers. We would recommend a 5 lever mortice at a minimum, to meet insurance requirements and british standard.
Live in a flat or apartment? If the door is on a single exit dwelling (flat or apartment) then the lock should meet the requirement of british standard 8621.
Interior Wooden Doors
Most likely to be a bathroom door, interior wooden doors will usually use a mortice sashlock. Internal door locks are not a requirement for home insurance and it is therefore suitable to have a 3 lever mortice lock or lower.
Turn and release cubicle locks may be enough to achieve privacy for a shared bathroom or cubicle door rather than protecting against forced entry and break ins.
uPVC and Composite Doors
It's most common to find a multipoint lock with a Euro cylinder on most uPVC and composite doors. It is important to ensure your euro cylinder is SS312 Diamond Approved Cylinder (3* kitemark) or your handle and cylinder together have a TS007 3* rating, as they can be prone to lock snapping. To get a TS007 rating you can combine a 1* kitemark euro cylinder with a 2* rated door handle to make a 3* rating.
Steel and Aluminium Doors
It is most common to find a secure multipoint locking system with a euro cylinder on steel and aluminium doors. As these doors are meant to offer higher security to properties, they will normally be supplied with a security cylinder and handles. There will also typically be a range of upgrade options including 3* euro cylinders and heavy duty handles for additional security.
Other Considerations when choosing a lock
Door Rating
You may need to consider a certain type of lock to match/maintain the door security rating of your home. Your doors security rating will tell you a variety of information, including how long they can withstand an attempt to gain entry with different tools of increasing power. You should consider this rating when deciding how heavy duty the locks on your door should be.
Door Frame
If the frame the lock is attached to is flimsy, the lock is easier to defeat. Since framing is often overlooked by those seeking to secure their doors, it can be a known weak point for thieves to target. A door may be solid enough to withstand a fair amount of brute force, but this is useless if the hinges are kicked out of the frame.
Door Style
Although security is the most important part of a lock, you will also want your lock system to blend in with the aesthetics of your home. Latham's Hardware cylinders come in brass and polished finishes so you can choose based on the style of your home.
Door Size
Door size is important from both an aesthetic and a security point of view. While aesthetically it is quite obvious a lock that doesn't correctly sit in a door will be unsightly, if you have a euro cylinder that sticks out too far from the opening, it's also much easier to snap, creating a security problem. Take some time to correctly measure your euro cylinder locks.
How much does it cost to change locks?
The price of having your locks changed can vary depending on a variety of factors, including where you are in the country, the type and security standard of the lock being fitted, and whether you are calling someone out or replacing the locks yourself. Generally speaking, having your locks changed by a professional could range from £70 to £110 per lock.
Changing your locks yourself isn't always as tricky as most people think it would be and can save you a lot of money, with locks starting from around £8 for an anti snap lock.
Follow our how-to guides for changing locks yourself:
How to change a euro cylinder lock
How to change a rim lock
Where to buy locks?
All traditional locks covered in this article can be purchased from Lathams Hardware. Shop our quality range of locks and upgrade your security system to give you peace of mind in your home. Make sure to consider the door material and location in your home.
If you're looking to create a smart home system, installation, security, features, and smart home compatibility have been summarised here.
Conclusion
When changing the locks in your home, you should first consider the location of the door in your home and the level of security you need (external v internal). Identify the appropriate options and narrow down which locks are suitable for the material of your door. If you are fitting an external door, ensure the lock meets british standard requirements and check whether you need a second lock to meet security requirements. Finally, weigh up whether you think you can complete the job yourself or if you'd rather get a professional locksmith in to fit the systems.