Do public toilets give you the shivers? Does the thought of touching the door handles, taps and sitting on the toilet seat make you queasy?
Not all pub and restaurant WC's get a 5 star rating. Tripadvisor is full of toilet horror stories covering the whole of the UK. In a post COVID world, where cleanliness and hygiene matter more than ever, certain areas of the country appear to have a better reputation for keeping their ablutions cleaner than others. We wanted to see which areas of the UK had a reputation for having the dirtiest bogs.
To get this data, we scraped the Tripadvisor reviews of around 110,000 pubs and restaurants in the UK (excluding Northern Ireland) and isolated any reviews where the customer had specifically mentioned the toilets. This left us with 12,041 reviews.
Explore the dirtiest toilets in the UK here:
Want to embed this map on your site? Use the code below:
<iframe src="https://www.lathamshardware.co.uk/wp-content/uploads/2020/07/Complaints_Map_v2.html" width="auto" height="600"></iframe>
Selecting "percent total" as the filter, you'll see where the greatest percentage of complaints of pub and restaurant toilets are in the country. Greater London tops this view with a whopping 18.8% of the complaints.
However, when you flick the "factorised percent" filter on, the data takes into account respective population sizes. This shows a more interesting story as most areas are actually pretty equal with Edinburgh leading the way for having disgusting toilets.
12,041 Tripadvisor reviews of UK toilets: what Brits have to say…
The data shows that Tripadvisor reviews are rarely positive, with the majority of keywords having a negative sentiment including "dirty", "filthy", "smelly", "disgusted" and "awful".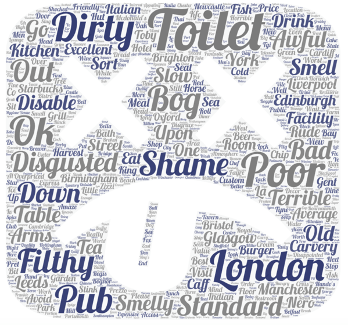 Revealed: the counties with the dirtiest toilets in restaurants and pubs
Unsurprisingly, London had the highest number of complaints by quite a significant margin. However, to make the data fairer we created a "proportional" total of complaints that took into account respective population sizes. When population numbers are taken into account, the study reveals that Edinburgh generally has the worst reviews followed by Glasgow:
Which doesn't show Scotland's two biggest cities in the best light with regards to their restaurant restrooms. In this view Greater London actually came in at a very respectful 16th; impressive considering it has a population of nearly 9 million and has the best part of 20 million tourists a year moving through it.
Top areas for toilet cleanliness
Analysing the top areas for toilet cleanliness (taking into account population sizes), county and council areas in Scotland take the 6 top spots here too. Bedfordshire, on the other hand, has the cleanest toilets in England closely followed by South Yorkshire and Northamptonshire.
Happy national toilet day 🙂
Stay safe,
Latham's Hardware